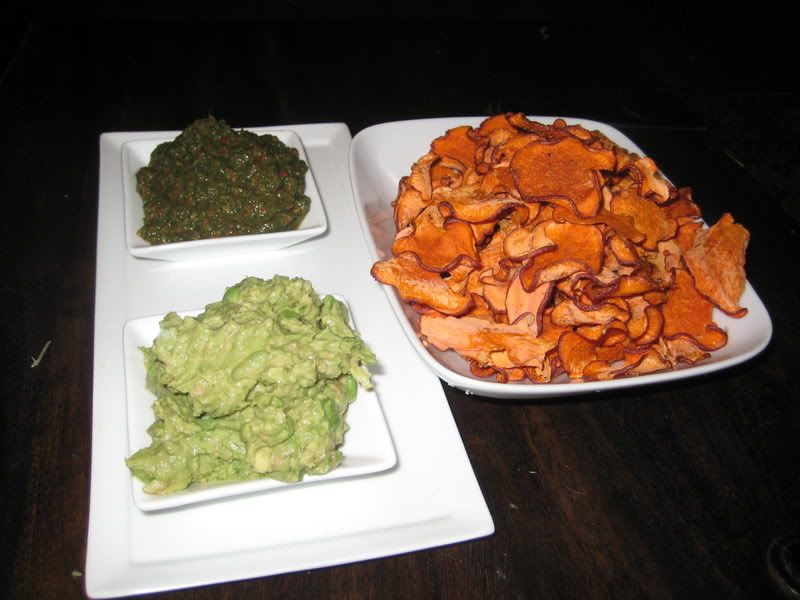 This meal has three components: the yam chips, the guacamole, and the spinach dip. The fat in the avocado helps to transport the nutrients from the yams and spinach, so the whole meal works together to give you lots of vitamins and minerals.
For the yam chips:
For this recipe, make sure you buy yams and not sweet potatoes. Sweet potatoes will not taste very good prepared this way. I used garnet yams here.
These chips can be eaten like potato chips or dipped into guacamole, salsa, or queso. They have a little kick to them but it won't light your mouth on fire.
The most important part of this process is to get the yam slices as thin as possible - otherwise they won't be crunchy like potato chips. I used a mandolin and cut them to 1/32" each. Having them all the same thickness really helps to get even drying in the dehydrator as well.
4 yams
3/4 cup cold-pressed olive oil
1 Tbsp garlic powder
1 Tbsp cayenne
1 Tbsp himalayan sea salt
2 tsp. ground cumin seeds

1. Cut all the yams and lay them out on dehydrator trays
2. Mix together all other ingredients
3. Brush all over the yams, making sure to get some spice on each one
4. Dry at 125 degrees for 14-24 hours, depending on the thickness of the slices. For 1/32" slices, it takes my Excalibur dehydrator about 12 hours to try 9 trays. For 1/8" slices, it takes about 24 hours and they aren't quite as crispy.
For the guacamole:
This is not a traditional guacamole, but it is my favorite. Making your own recipe would be fine too, just make sure all the ingredients you use are raw.
1 avocado
2 cloves of garlic, pressed
himalayan sea salt, to taste
cut the avocado in half, remove the pit, and scoop out the insides with a spoon. Mash the avocado to the desired consistency with a fork, then mix in the garlic and salt, to taste.
For the spinach dip:
This is an indian spinach dip, so it doesn't have any of the fatty cheese or sour cream you might find in the traditional variety.
10 oz. spinach, washed and chopped

1/4 cup of red bell peppers, chopped
1 1/2 cloves garlic
1/2 tsp. vegetable stock
1 tsp. cumin seeds
1 tsp. of Garam Masala
1 tsp. garlic powder

1/2 cup cooked lentils or chickpeas

squeeze of lemon juice

salt and pepper to taste

1/4 cup green onions, chopped

Directions:
Blend all ingredients together in a blender or food processor.